Privacy For The Modern Age
We believe that privacy and freedom of expression are two very important things, so we offer solutions for accessing and publishing content safely.
Whether it's privacy you're seeking or performance, we've got you covered. We strive to offer rock solid services while we continue to work to normalize both privacy and freedom of expression in the modern digital age. All services are powered by modern hardware on our own network.
Check out some of our privacy projects we host or sponsor here.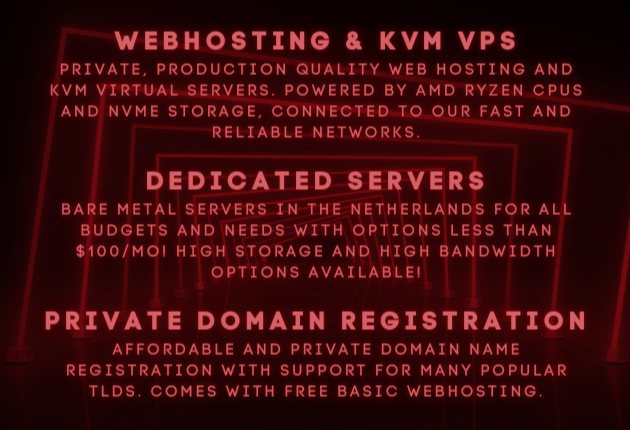 A web host that protects your privacy.
You don't need to be a journalist or an activist to benefit from a service that values your privacy.
We believe privacy is a fundamental human right and that seeking privacy is completely normal.
Here is how we protect your privacy:
We require no personal identifying information to create an account.
Services can be paid for with various cryptocurrencies, but we also accept PayPal and Card (via Stripe) for those who prefer that.
Our website uses no 3rd party elements like external fonts, CDNs, or javascript. This keeps your browsing requests with us.
We utilize full disk encryption where needed for sensitive information, such as our customer support / billing portal.
We offer PGP encrypted webmail by default on all shared hosting services and encourage users learn how to use it.
All services are offered in privacy friendly locations or locations that have strong freedom of speech laws.
We allow you to contribute your allocated resources to networks like Tor and I2P by hosting relays and routers.
Shared web hosting customers can opt-in to have their clearnet website mirrored to the I2P and Tor networks. [ Learn More ]
We sponsor several privacy projects and donate either resources or money to projects like I2P and Tor or organizations like the EFF.
Our Privacy Based Hosting Solutions
---
CloudLinux Shared Hosting
VPS quality hosting with easy-to-use, ready-to-go tools courtesy of CloudLinuxOS and DirectAdmin. Non-oversold resources and user isolation make for a shared hosting service that is heavy on performance.
---
CloudLinux Hosting Features:
Powered by CloudLinuxOS
Non-Oversold Resources
RAID Protected NVMe Storage
Free Opt-In for anonymity network publishing. [beta]
PGP Encrypted Webmail
DirectAdmin Control Panel
Daily Offsite / Remote Backups
Softaculous Software Installer
Free SSL (ZeroSSL / LetsEncrypt)
NodeJS, Python, PHP Selector
Basic Helpdesk Support
---
Service Available In:
Naaldwijk, Netherlands
(Central USA) Texas
*
Learn More
about our I2P and Tor Network website mirroring to see if this private beta feature is right for you.
KVM Virtual Private Servers
This is the perfect solution for those who need the most performance and privacy. With fast, non-oversold resources to power your project, you'll have the stability to watch your project grow. We also have semi-dedicated plans available.
---
Virtual Server Features:
Powered by AMD Ryzen CPUs
KVM Virtualization For Isolation
1Gbps Network Connectivity
1 IPv4 (More Available)
IPv6 /64 subnet
Full Root Access
RAID Protected NVMe storage
Free Offsite VPS Snapshots
Virtualizor Control Panel
Multiple OS Choices or Upload ISO [ View OS Choices ]
Basic Helpdesk Support
---
Service Available In:
Naaldwijk, Netherlands
Coeur d'Alene, Idaho, USA
Need a Dedicated Server?
We've got dedicated server options for less than $100/mo in our Netherlands location.
Netherlands Dedicated Servers
For those requiring dedicated resources and additional data privacy, we have several options less than $100/mo to choose from with additional high storage, high bandwidth and high compute and custom options available!
---
Dedicated Server Features:
Remote Server Control Panel
IPv4 and IPv6 included
Most deployments in 24hrs
Basic, 40Gbps DDoS protection
PTR / rDNS Management
1, 2, 5, 10Gbps BW Options
GeForce GPU Servers Available
Custom Servers Available
---
Buy An Anonymous Domain Name:
---
We now offer hundreds of different domain names that you can register, or you may wish to migrate your existing domain names.
---
.com, .net, .org, .co, .pw, .xyz, .io .club, .biz, .me, .cx, .chat, .dev, .fm .democrat, .republican, .fail, .email .download, .exposed, .mx, .network .news, .rip, .sbs, .sh, .space, .tube, .tv .video, .vg, .win, .ws, .xxx, +MORE
© 2020 - 2023

Incog

NET

LLC – All Rights Reserved